Tips For Painting
A kitchen can be very expensive. If you don't have the money for a kitchen remodel, painting your kitchen cabinets can give your kitchen a brand new look at an affordable cost. Painting cabinets can be a simple task if you put in the work to prepare them properly before painting. Here are some tips that will make painting your cabinets a breeze:
Remove All The Cabinet Doors.
Do not paint the doors vertically because you could get drips and a poorly looking finish. After you remove each door, take a piece of masking tape and number the doors. That will make it easier when you go to replace the doors.
Remove All The Hardware
If you want the remodeled look, consider getting new hardware. However, if you are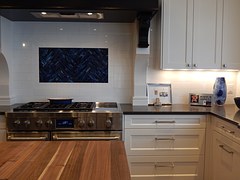 keeping the same hardware, you will still need to remove it. Painted hardware is the sign of a lazy painter.
Wash And Dry Cabinets Before Painting
Use a solution of Trisodium Phosphate (TSP) to wash all the cabinets and shelves. It will remove the first as well as the grimy oil layer that will build up on kitchen cabinets. Do not skip this step, even if the cabinets look clean.
Sand The surface.
Use 220-grit sandpaper and rub the surface of the cabinets until the surface becomes dull. Take a clean damp cloth and clean away the wood dust.
Apply A Primer.
Use a brush or a paint pad to apply a tinted primer. After the primer is dry, you will want to sand the surface with 220-grit sandpaper lightly. Remove the dust with a damp rag.
Start Painting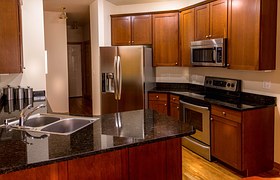 Get the paint on. To get the best result, you should utilize a sprayer. If you are using a brush, always apply it in one direction and try not to apply it on too thick. Even though this might be more time consuming, you should always choose to apply two light coats instead of just one heavy layer. First paint the insides, leave to dry and only then turn to the opposite side. This way you'll avoid paint drops on the outsides of your cabinets.
It can take you up to four days to finish your painting work. For the painting job to work out well, you must choose your color carefully and then after painting, give enough time for drying before using the cabinets. You also could take into consideration the total cost of painting the kitchen cabinets and how much time you require to clean the cabinets before painting. The time required to paint a stained kitchen cabinet is more and requires more effort to get the job done perfectly. You may choose to ignore painting the inner panel of the kitchen cabinet to you save time and money.